Employee Training Manager is a cloud-based employee training management system that manages the training data for your employees. With training tracking software, you can track the complete training history for all your employees in one central database. Our training manager software has been a market leader for a number of years in the management of employee training data and hosts many features and benefits to support your business. Our popular desktop course management system is now also available as a cloud-based application and can be used in your web browser and is accessible from anywhere.
Employee Training Manager is designed to automate the collection and retrieval of training information to provide instant and reliable training information to key people within your business.
Simplify your employee training with a Training Management System
Employee training is becoming increasingly important for ensuring quality and meeting the compliance requirements from local, national, and international regulatory agencies. Training Manager software provides employers with everything they need to schedule, track, and report on their employees' compliance and safety training. Report internally and to regulatory bodies that your company and employees meet the necessary safety training requirements.
A Course Management System to share your training data across your business
Our Course Management System provides more transparency to your training records for everyone and define who can log in, view or edit the training records database. Invite employees to view their own training history.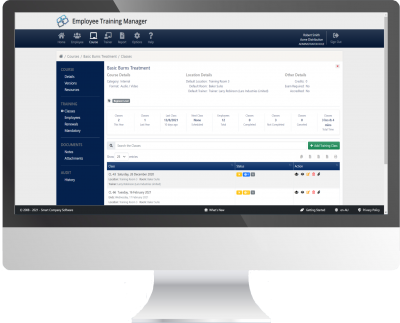 With our cloud-based Employee Training Management software, we release regular updates and you always have the latest release
What's New?
Cloud-Based Web Application
This version of Employee Training Manager is cloud-based and works in your web browser and can be accessed from any location with an internet connection. It's hosted securely on Amazon Web Services (AWS) providing industry strength security.