Course Management software and Employee Training Management System that records training data about your employees. With an employee training records database, you can track the complete training history for all your employees in one central database. Our Training Record Management software is positioned to be the market leader in employee training records software and hosts many features and benefits to support your business.
Course Management software to simplify your employee training management
Measure your employees against competencies and track what employees need training. You can also record employee event attendances, such as seminars or conferences.
Employee Training Management System
Employee training is becoming increasingly important for ensuring quality and meeting the compliance requirements from local, national, and international regulatory agencies. Employee Training Manager is an Employee Training Management System provides employers with everything they need to schedule, track, and report on their employees' compliance and safety training. Report internally and to regulatory bodies that your company and employees meet the necessary safety training requirements.
Training Record Management software to share your training data across your business
Training Management System software that provides more transparency to training records for everyone and define who can log in, view or edit the training records database.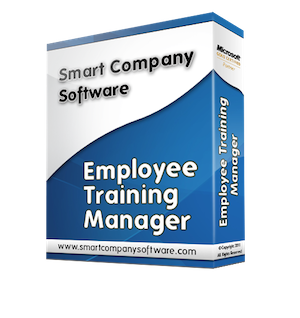 Latest Release January 2021
Learn More
Interested in Cloud-Based Solution?
This version of Employee Training Manager is installable and runs on your desktop as an application. We also have a cloud-based version of Employee Training Manager that works in your web browser. Click the Learn More button for more details.
Unsure about which version is right for you? Click here to compare our cloud and desktop editions.
Learn More
Register Software
You've purchased Employee Training Manager, now learn how to register the software with the license key you've received.
Setup Enterprise Edition
Learn how to setup the Enterprise Edition, so you can store the database on your network server. This allows the database to be accessed by multiple-users on different computers.
Open and Edit Records
Learn how to open and edit multiple records at the same time. Edit training records, perform some other action and then return to continue editing the record.
For more videos like these, please head over to our YouTube channel
Getting Started Guide
PDF Download
A guide to getting started with Employee Training Manager
Software User Manual
PDF Download
Employee Training Manager User Manual
Network Configuration
PDF Download
Configure Multi-User Access on your Network
Importing Your Data
PDF Download
Importing Data into Employee Training Manager